Hubby and I went to our local grocery store and found this in the frozen section...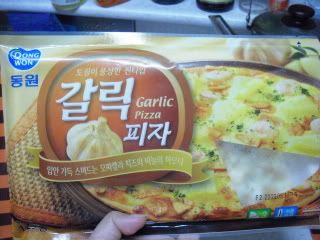 It looked interesting enough. Garlic Pizza. I love garlic and I love pizza. I told my hubby to get me one (it was only $2.99) and that would be my dinner for the night. When we got home, hubby ordered pepperoni pizza from Sijang Pizza (he didn't trust the packaged pizza). I opened up the package...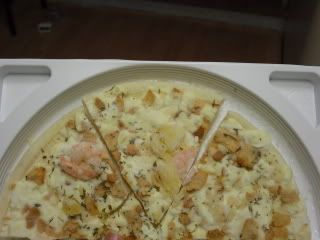 ...and found shrimp (yay!) and pineapple (what the heck?). Pineapple belongs in a fruit cup or a salad - NEVER ON A PIZZA. I tried to pick out all the yucky pineapple chunks on it and broiled the pizza in our oven. It was bland, I couldn't taste the cheese, let alone the pizza sauce. And I was still hungry. So I took a hot slice of pepperoni pizza from my hubby's pizza and finally felt full.