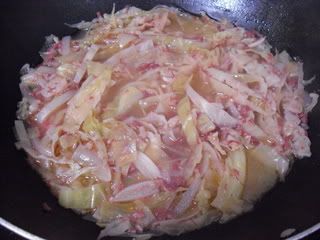 When I was little, I would love to read the Manila Bulletin newspaper comic section. It was a full-page of comics ranging from US cartoon strips (Peanuts, Spiderman, The Phantom, etc) but what really got my attention was a strip called "Bringing Up Father". The mom in the cartoon, Maggie, would ask Jiggs what he wanted for supper. The answer was always Corned Beef and Cabbage.
I once asked my mom to fix it and she said that she has always been fixing it. Then she pointed out that our lunch that day was corned beef and cabbage. I knew it wasn't the same thing that Jiggs wanted for supper but the Filipino version is still very tasty and satisfying.
So, I'm sharing my mom's recipe for Corned Beef and Cabbage. What we use is the canned corned beef called "Argentina Corned Beef". Click here to see what it looks like:
Argentina Corned Beef
. It's a tiny can, maybe as big a round like a tomato paste can.
Recipe:
1 can Argentina corned beef
1/2 medium onion, sliced
1 tbsp garlic, minced
1 tbsp corn oil
1/2 head of cabbage, cut into shreds
2 cups beef stock or 1 beef boullion cube + 2 cups water
1. In a wok, heat up the oil and fry the garlic until golden-brown. Add the onion slices and stir-fry until the onions are translucent.
2. Open the can of corned beef and dump the contents into the pan. Stir-fry everything for about 2 minutes. Add the cabbage and stir-fry everything for a minute.
3. Add the beef stock. Cover and bring to a boil. When it starts boiling, take the cover off and let simmer for 5-7 minutes or until the cabbage is cooked (to your liking, I like mine a still with some crunch).
4. Take off the heat and serve into bowls.
This is a good side dish for fried fish like "galunggong" (Scad). Of course, with freshly cooked rice, too.