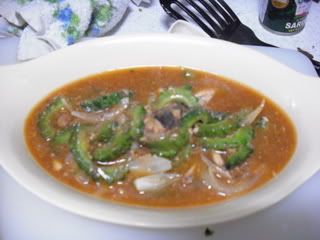 I used to hate "ampalaya" or Bitter Gourd in English. It is also called "amargoso" in some parts of the Philippines. Ampalaya is usually served thinly sliced with beaten egg (like a veggie scrambled egg stir-fry) or sauteed with beef slices and then drenched with a thick oyster sauce-based dressing.
What changed my mind about the ampalaya? My friend and neighbor Elena had a vegetable garden and she grew ampalaya there. She kept trying to give me ampalaya fruit which I constantly refused, recalling my childhood days of being forced to eat the bitter vegetable. She assured me that her ampalaya wasn't that bitter and with proper preparation, most of the bitterness would be gone anyway. I changed my mind and accepted several ampalaya fruit. It was wonderful. And not bitter at all.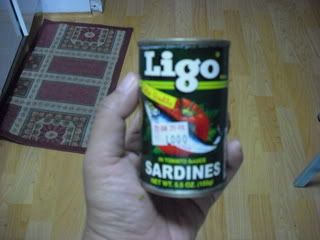 The ampalaya dish I made today for breakfast is Ampalaya and Sardinas (Canned Sardines in Tomato Sauce). The sardines I used is of the Ligo brand (I think the most popular canned sardines in the Philippines). You can get for a buck here (which means it's probably 40 to 50 cents back in Manila.
So on to the recipe.
RECIPE
1 medium-sized ampalaya
1 can of sardines in tomato sauce (any brand will do, even the spicy one)
1/4 cup rock salt
1/2 onion, sliced
1 tbsp minced garlic
1 tbsp cooking oil
1. Wash the ampalaya, cut the ends off and then cut in half. Using a spoon, scrape the inner white portion of the fruit (that has seeds in it) until you come to the firm green flesh. Cut into thin slices, pile into a bowl and mix thoroughly with rock salt. (This will leach most of the bitterness out of the sliced ampalaya). Set aside.
2. Get a wok or pan and set over medium fire. Add the oil and when it is hot, add the garlic and fry until golden-brown. Then add the onion slices and stir-fry until the onion is translucent.
3. Wash and rinse the ampalaya slices. Drain and add the ampalaya to the pan. Stir-fry everything for about 2 minutes.
4. Open the can of sardines and dump everything into the pan. Add about a can of water (use the empty can for measurement) and add that to the pan too. If you like, break up the whole sardines into little pieces. Stir everything and let simmer.
5. When the sauce has reduced to half, the dish is done. Turn off the heat and serve with rice.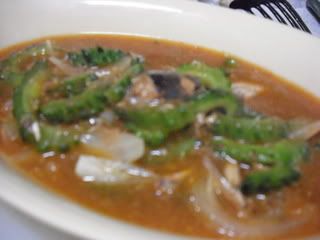 This dish is usually served for lunch but like what i said, I had it for breakfast. Well, brunch technically since I woke up late (almost lunchtime). Ampalaya is rich with iron and is usually prescribed to persons with anemia. It is also promotes digestion. Recent studies are now looking to ampalaya extract to help combat HIV infections. Now if that is not enough for you to try ampalaya, I don't know what will. All I know, my brunch this morning was really mighty tasty. And healthy too. ;)