There's a certain thrill and satisfaction when somebody tells you that you're a winner. Be it the lowest prize in the daily Lotto or some trinket from a friend. Last time I won, it was from an online Bingo game hosted by my friend - MissyK. There was very special prize for the person who chose a certain actor's name. The prize was a small stuffed polar bear and a Lei.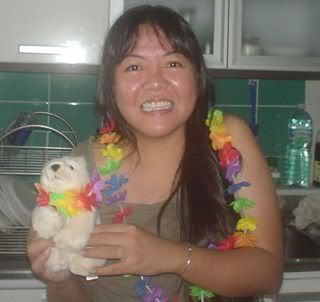 Then Walk this Way's Carlos Celdran hosted a game called "THE UNBEARABLE LIGHTNESS OF BEING BAKYA." Bakya in Filipino means "tacky" and also means a pair of Filipino wooden clogs (well, they used to be wooden in the past but now they're more of plastic and rubber). And after almost a month's wait,
I won!
My entry was a picture of woman in heeled sandals at the same time wearing socks. Ugh!
I had the winning certificate mailed to my mom so she can pick out her Happy Feet sandals. It wouldn't do good for me to have it mailed to me anyway. It's too cold for sandals here in Korea now.