When I was little, about 8 or 9, a college student named Elson Elizaga saw me writing poems in my Mom's hamburger shack in Silliman University in Dumaguete City. He asked to see my poems and then befriended me. He kept encouraging me to write poems and prose and I kept writing.
One summer afternoon, he and Butch Dalisay, asked my mother if they could bring me to the Silliman Summer Writer's Workshop. My mom agreed and soon I was attending lectures and dissertation with now prominent Filipino writers (they were students then) and news journalists. There I was, an elementary school girl in pigtails and shorts, attending one of the most prestigious Writer's Workshop in the Philippines.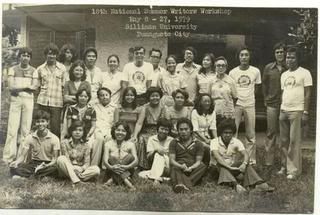 The workshop changed my life... Because of it I am a writer and a poet.
To read more about it, here's an article on the National Writer's Workshop written by a fellow workshop attendee - Susan Lara.
The workshop that never ends
By Susan S. Lara
Monday, June 30, 2008 In an interview just before her death in 2004, Susan Sontag was asked if there was something she thought writers ought to do, and she said: "Several things. Love words, agonize over sentences. And pay attention to the world."
Half a century ago, Edilberto and Edith Tiempo started saying just that to young writers. The Tiempos founded in 1962 the Philippines first and now longest-running National Writers Workshop at Silliman University in Dumaguete City. For 46 years, hundreds of aspiring writers have been to the workshop, to learn the craft of writing at the master's feet.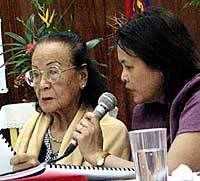 There have been rough patches: the workshop has always worked on a shoestring budget, but there had been summers when funding was extraordinarily meager, and could support only six or seven fellows. Yet the workshop kept going, summer after summer, even after university funding stopped in 1992 and former workshop alumni had to band together to keep the flame alive.
Over the past 13 years, the workshop continued through the efforts of the Creative Writing Foundation, Inc. founded by Krip Yuson, Marj Evasco, Jimmy Abad, Ricky de Ungria and me; CAP College; the Dumaguete Literary Arts Service Group, Inc. (DuLA, Inc.) headed by poet-lawyer Ernesto Yee; the National Commission for Culture and the Arts (NCCA); and various groups and individuals who value our literary heritage.
This year, the 47th National Writers Workshop came home to Silliman University, thanks to SU president Ben Malayang, who recognizes the prestige the workshop has given the university all these years (most people, in fact, have never stopped calling it the Silliman Writers Workshop).
It was a coming home of sorts, too, for Rowena Torrevillas, who sat in the panel of critics for the second time since she left for the International Writing Program of the University of Iowa in 1984. The first time was in 2005, when she and Robin Hemley, director of UIs Non-fiction Writing Program, brought 10 graduate students from Iowa for the First International Creative Non-fiction Workshop in Dumaguete, which ran parallel to the 44th National Writers Workshop.
This summer's sessions were held in Katipunan Hall, which used to be the Silliman University Mission Hospital, where Rowena was born. Much of the building has not changed, and one can still make out the initial floor plan and layout from the emergency room to the morgue. This has given rise to many ghost stories, of wheelchairs rolling down the corridors on their own, of eerie sounds emanating from the restroom cubicles.
DM Reyes, Lito Zulueta and I joined Rowena and Ernie Yee in the panel during the third week, replacing second-week panelists Butch Dalisay, Cesar Aquino and Dave Genotiva. Myrna Peña Reyes and Butch Macansantos made up the first-week panel, with Rowena and Cesar.
The third week panelists were luckier than Butch Dalisay. We left a rain-drenched Manila, endured a bumpy plane ride, and were rewarded with the spectacle of unclouded Dumaguete, luminous on a Sunday morning. Like Butch, I was dismayed by the shabby condition and service of South Sea Resort last year, so DM and I opted to stay in La Residencia Almar, a Spanish-inspired hotel owned by my cousin Baby Hilado and his wife Olet, while Lito stayed in Bethel. We were given a room with a view in Almar, overlooking the sea, where I had the luxury of watching, without getting up from my bed, Dumaguete's stunning sunrise the only thing that could take the place of caffeine for me.
We met the fellows the following day: Lawrence Anthony Rivera Bernabe (UP Visayas), Noelle Leslie G. dela Cruz (DLSu), Ma. Celeste T. Fusilero (Ateneo de Davao), Rodrigo Dela Peña (London PR Consultancy, Dumaguete), Arelene Jaguit Yandug (Xavier University), Bron Joseph C. Teves (Silliman University), Marguerite Alcarazen de Leon (AdMU), Dustin Edward Celestino (UP Diliman), Joshua L. Lim So (DLSU), Liza Baccay (Cebu Daily News), Fred Jordan Mikhail T. Carnice (SU), Ma. Elena L. Paulma (XU), Anna Carmela P. Tolentino (DLSU), and Lamberto M. Varias, Jr. (UP Diliman). They were positively glowing, still under the magic spell of Siquijor, where they had spent the weekend. As usually happens by the third week, they had already bonded well, were already feeling at home and dreading the impending end of the workshop.
Mom Edith, heeding doctor's advice, refrained from attending the sessions, entrusting the workshop to the capable hands of Rowena. Like Mom in workshops past, she always gave the opening salvo, pointing out a work's major strengths and weaknesses, sometimes reading another poem that achieved what the assigned piece was trying to do. Ernie, Lito and I followed with elaborations, more suggestions on how the piece could be improved, a little nitpicking when necessary. By unspoken agreement we let DM have the final word, as he could always be depended upon to give the discussions a satisfying closure.
What do we usually look for in a workshop piece? In poetry, we take pleasure in heightened and symbolic language, a startlingly new insight into something familiar and quotidian, and craftsmanship in articulating the poems concept. In both fiction and nonfiction, we invariably look for sharp and complex characterization, motivation, significant details, consistency in point of view, the change that occurs in the end, the human universal truth — the why behind the story, a question of a higher level than what happens next. We remind fellows of John Cheever's statement: "I lie to tell a more significant truth."
We were sorry we missed Mom Edith's lecture at the end of the second week, where she clarified the ways of enhancing poetic content: 1) through reverberation, achieved by the inclusion of details or situations that echo the meaning of the poem; 2) the use of indigenous wit, sharpness and humor; 3) the use of classical allusions; and 4) a startling idea or concept to serve as the core of the poetic content.
Everyone agreed that the 47th Batch is a great bunch. There is a good deal of fine writing. Most of the fellows' works already hold the evidence of other writers' workshops attended, and the promise that they are in it for the long haul. We were hard-pressed to think of ways to improve "Cross," Margie de Leon's metafiction, or "In His Own Image," Lambert's science fiction. We delighted in Igor dela Peñas ekphrastic poem "Whitewash" and Leslie dela Cruz's poignant "Terminal."
The panelists know the value of encouragement. But we also know that fellows can't be helped by lenience, by saying a piece is a deferred success when we simply mean it has flaws. So we didn't pull our punches either. Some gems:
Arrive late, plunge into the action immediately.
Leave early; dont overstay your welcome.
Whose story is this? Whose point of view do we have access to?
Show, don't tell.
This is a crucial point in the story and should be rendered in scene, not summarized.
This is not poetry; it is cut-up prose.
The poem doesnt rise above the literal level.
The literal level is unclear, so the metaphorical level totters on shaky ground.
Paul Engle, Dad Ed and Mom Edith's literary father, and therefore our literary granddad, was invoked several times:
Writing is like making love: it is astonishing how far pure instinct (if it really is pure) will carry you. It is also true of both these lyrical forms of expression that a few things consciously learned will push toward perfection what might otherwise be an ordinary act.
You can't grow hair on a billiard ball.
You cant make a silk purse out of a sow's ear.
We perceived no churlishness, even if we tended to bear down too much on fustian writing or plain exposition. This is a group that can take criticism with grace, and can dish it out, too, with aplomb. Leslie noted this as early as the first week: "I was astounded by the high level of discourse that we regularly achieve in the workshop. I've never been in a discussion with this many scintillating people, never had such powerful mental orgasms." And this, from Liza: "They could read me my electricity bill and I'd still be raptly listening." And they even came to the sessions on time!
The most pleasant, gratifying gesture, however, was the fellow's surprise gift to the panelists, to the SU English Department, headed by Andrea Soluta, and everyone who made the Workshop such a magical experience for them: Sea[sic], an anthology of prose and poetry written by the fellows in and about Dumaguete, with Dustin and Margie serving as midwives. Jordan called it our baby, our little token to all panelists who endured our ignorance, our clean-slatedness as youngsters in the world of literature. For Igor, it is simply proof that they didn't spend every night drinking: "only every other night." The other evenings were spent writing, and the result merits a treasured spot on my bedside table.
Definitely, there were no billiard balls in this batch. No sow's ears either, and we're all looking forward to a good harvest of silk purses pretty soon, from our newest brothers and sisters in this ever-growing writing family.